Introduction:
Official Hymn of the Jubilee Year of Mercy
For the sheet music, click here: Holy Year of Mercy Hymn guitar-vocal )
Reading 1:
Jesus Christ is the face of the Father's mercy. These words might well sum up the mystery of the Christian faith. Mercy has become living and visible in Jesus of Nazareth, reaching its culmination in him. The Father, "rich in mercy" (Eph 2:4), after having revealed his name to Moses as "a God merciful and gracious, slow to anger, and abounding in steadfast love and faithfulness" (Ex34:6), has never ceased to show, in various ways throughout history, his divine nature. In the "fullness of time" (Gal 4:4), when everything had been arranged according to his plan of salvation, he sent his only Son into the world, born of the Virgin Mary, to reveal his love for us in a definitive way. Whoever sees Jesus sees the Father (cf. Jn 14:9). Jesus of Nazareth, by his words, his actions, and his entire person[1] reveals the mercy of God.
(Bull of Indiction of the Extraordinary Year of Mercy, #1)
(for the full text click here: papa-francesco_bolla_20150411_misericordiae-vultus )
***** short pause *****
Reading 2:
The Heart of Jesus is essentially merciful, because it is the Heart of God; mercy is his very nature. The Blessed Trinity  put in his Heart for our sake all the treasures of its tenderness and love, and so the Sacred Heart poured them out profusely on every misfortune he came across. His role on earth was not to condemn but to forgive; not to spurn those who suffer but to comfort them; not to alienate sinners, but to enlighten and convert themnot to turn away the sick, but to heal them; not to abandon a lost sheep, but to bring it back to the sheepfold;not to quench the smoking wick, but to make it burn brightly; not to break the crushed reed, but to strengthen it. That is the Sacred Heart. What kindness, what mercy!
(Fr Jules Chevalier, MSC, Meditations II, from Daily Readings, Feb 26)
Time for personal reflection 
Review your life in the past year… how have you experienced God's mercy during that period?
Closing Prayer:  Prayer of Pope Francis For the Jubilee
Lord Jesus Christ,
you have taught us to be merciful like the heavenly Father,
and have told us that whoever sees you sees Him.
Show us your face and we will be saved.
Your loving gaze freed Zacchaeus and Matthew
from being enslaved by money;
the adulteress and Magdalene
from seeking happiness only in created things;
made Peter weep after his betrayal,
and assured Paradise to the repentant thief.
Let us hear, as if addressed to each one of us, the words
that you spoke to the Samaritan woman: "If you knew the gift of God!"
You are the visible face of the invisible Father,
of the God who manifests his power above all
by forgiveness and mercy:
let the Church be your visible face in the world,
its Lord risen and glorified.
You willed that your ministers would also be clothed in weakness
in order that they may feel compassion
for those in ignorance and error:
let everyone who approaches them feel sought after,
loved, and forgiven by God.
Send your Spirit and consecrate every one of us with its anointing,
so that the Jubilee of Mercy may be a year of grace from the Lord,
and your Church, with renewed enthusiasm,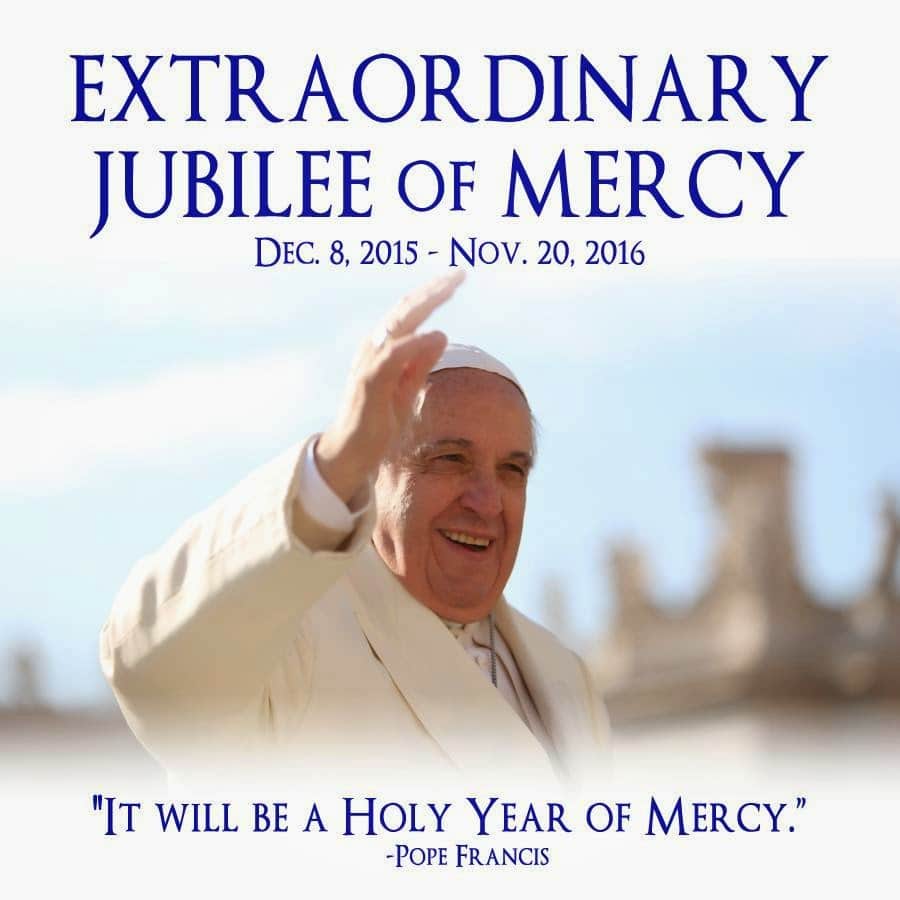 may bring good news to the poor,
proclaim liberty to captives and the oppressed,
and restore sight to the blind.
We ask this of you, Lord Jesus,
through the intercession of Mary, Mother of Mercy;
you who live and reign with the Father and the Holy Spirit for ever and ever. Amen.
Concluding Hymn: Give us new Hearts o Lord
( for the sheet music, click here: Hymn+for+the+Jubilee+Year+of+Mercy+(2) )