Prière
Unies par la puissance de ton amour dans notre Congrégation internationale et missionnaire, nous venons à Toi, Seigneur Jésus, en ce temps de préparation à notre chapitre géneral.
Seigneur, c'est Toi, l'amour de Dieu incarné et le visage de la miséricorde du Père, qui nous appelles et nous envoies.
Envoie sur nous ton Esprit, que nous puissions continuer notre mission de semer l'amour et l'espérance dans notre monde brisé.
Permets qu'avec ton amour, nous puissions ensemble être missionnaires de l'espérance dans un monde nouveau émergeant de ton côté.
Alors que nous avançons vers notre chapitre général, sois la voix qui inspire nos réflexions, et la source qui donne force à nos décisions.
Donne-nous la force de vivre selon les orientations de notre chapitre provincial et révèle-nous de nouvelles voies pour la mission.
Embrase nos cœurs et donne-nous de nouvelles perspectives.
Avec Marie, Notre-Dame du Sacré-Cœur et Saint Joseph, avec le Père Chevalier et Mère Marie-Louise, nous te prions dans la joie et l'attente, croyant vraiment en notre sublime mission de faire aimer ton Cœur partout et toujours ! Amen
"Du Cœur du Verbe incarné, percé sur le Calvaire, je vois sortir un monde nouveau, le monde des élus. Et cette création, pleine de grandeur et de fécondité, inspirée par l'amour et la miséricorde, c'est l'Eglise, ce corps mystique du Christ, qui la perpétuera sur la terre jusqu'à la consommation des temps."   (Jules Chevalier msc, 1900 Sacré-Cœur, p.145-146)
"En reconnaissance, aimons de plus en plus notre belle vocation, et efforçons-nous de devenir des Filles de Notre-Dame du Sacré-Cœur moins indignes de ce nom. "         (Marie Louise Hartzer fndsc, 1906, Lettres, n°161)
Prayer
United together by the power of your love, in our international missionary congregation,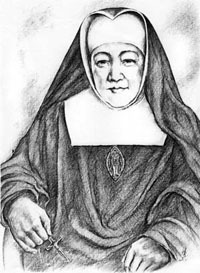 we come to You, Lord Jesus, in this time of preparation for our General Chapter.
You are our Lord who calls us and  sends us; the love of God made flesh, the face of the Father's mercy.
Send us your Spirit that we may continue our mission of sowing seeds of love and hope in our broken world.
Empower us with your love that we may truly be missionaries of hope in a new world emerging from your side.
As we journey towards our General Chapter, may you be the inspiring voice behind our reflections, and the source that gives strength to our decisions.
Give us the strength to live according to the orientations of our provincial chapter. Reveal to us new paths for mission, inflame our hearts and give us new vision.
With Mary, Our Lady of the Sacred Heart, and St Joseph, with Fr Jules Chevalier and Mother Marie Louise Hartzer, we pray to You in joy and expectation, truly believing in the sublimity of our mission of making your Sacred Heart loved everywhere and forever! Amen.
From the Heart of the incarnate Word, pierced on Calvary, I see a new world emerging, the world of those he has chosen. And this creation, so fertile, full of grandeur and inspired by love and mercy, is the Church, the mystical body of Christ, which makes this new creation present on earth until the end of time.           (Jules Chevalier msc, 1900 Sacré Coeur, 145f)
In gratitude, let us love our beautiful vocation more and more, and let us strive to become Daughters of Our Lady of the Sacred Heart less unworthy of the name. (Marie Louise Hartzer fdnsc, 1906 – Her letters, #161)