Sr. Ruth S. Yburan:
A pleasant and blessed day to you all! I am from the Philippine Region, and currently ministering as treasurer at St. Alphonsus Catholic School in Lapulapu City Cebu, the southern part of our country. It is my joy to be part of the delegation of the Australian Province to the 20th  General Chapter. This is actually my very first time to be a delegate to the General Chapter and it is my hope and prayer that through our communal discernment, reflections, sharings, sincere discussions and collaborations this Spiritual event in the life of our congregation may open up creative ways and means for a new world to emerge. With Mary, OLSH, let us be one in mind and heart to pray for the success of our 20th General Chapter.
?
Je vous souhaite une journée agréable et bénie à vous toutes ! Je suis de la Région des Philippines, actuellement mon ministère est d'être le trésorier à l'école catholique St. Alphonsus à Lapulapu City Cebu, située dans la partie sud de notre pays. C'est une joie pour moi de faire partie de la délégation de la Province australienne au 20e Chapitre général. C'est en fait la première fois que je suis déléguée au Chapitre général ; mon espoir et ma prière sont que, par notre discernement communautaire, nos partages de réflexions, nos discussions sincères et nos collaborations, cet événement spirituel dans la vie de notre congrégation puisse ouvrir des voies et des moyens créatifs pour qu'un nouveau monde émerge. Avec Marie, NDSC, soyons d'un seul cœur et d'un seul esprit et prions pour le succès de notre 20e Chapitre général.
Sr. Gerardine Doherty
Province: Australian Province
Work: Full Time Doctor of Ministry Student, Catholic Theological Union, Chicago (August 2017 – December, 2019) Local Community Leader (2017-19) Spiritual Director (2019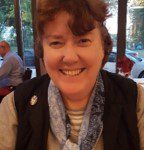 -2020)
General Chapters: 1999, Issoudun:  Moderator of the Chapter with Sister Christine Anderson as Facilitator;  2005, Issoudun:  Liturgy Coordinator for the Chapter; 2011, Philippines:  Secretary for the Chapter; 2014, Italy: Delegate
Expectation of the Chapter: That the entire congregation be awakened, inspired, united and missioned by the articulation of a common vision that is firmly grounded in our history, charism and spirituality.  Such a vision would need to embrace our story, our present and evolving global reality, as well as propel us forward, priming us for future developments.  This vision could also serve as an ongoing evaluative ideal/guide for all the congregation throughout the following six years.
?
Province: Province d'Australie
Travail : Etudiante à plein temps en doctorat à « Catholic Theological Union », Chicago (août 2017 – décembre 2019) Supérieure d'une communauté locale (2017-19) Directeur spirituel (2019-2020)
Chapitres généraux : 1999, Issoudun : Modératrice du Chapitre avec Sœur Christine Anderson comme animatrice ; 2005, Issoudun : Coordonnatrice liturgique pour le Chapitre ; 2011, Philippines : Secrétaire du Chapitre ; 2014, Italie : Déléguée
Attente pour le Chapitre : Que toute la congrégation soit éveillée, inspirée, unie et missionnaire grâce à une vision commune fermement ancrée dans notre histoire, notre charisme et notre spiritualité. Une telle vision devrait embrasser notre histoire, notre réalité mondiale actuelle et en évolution, nous propulser vers l'avant, afin d'amorcer les développements futurs. Cette vision pourrait également servir d'idéal/guide pour une évaluation continue pour toute la congrégation tout au long des six années suivantes.
Sr. Marie-Christine Kunzi
Hello. I was born in Switzerland. I discovered Father's Chevalier charism in a spirituality centre led by the MSC Fathers together with the FDNSC Sisters. I have been the French Provincial leader for one year. I'm lucky to live in Issoudun, our birthplace and I have already attended three General Chapters.
?
Je suis née en Suisse, où j'ai découvert le charisme du Père Chevalier dans un centre spirituel animé par les MSC, en collaboration avec les FDNSC.  Je suis provinciale de France depuis 1 an. J'ai la chance de vivre au berceau de notre Congrégation, à Issoudun et j'ai déjà participé à 3 chapitres généraux.
Sr. Anne-Marie Hermans
I am a professional Caregiver; For many years I have been working in elderly care and in recent years in care for our elderly Sisters.  Since 2009 I am the  Provincial Leader of the Belgian Province. 
?
Je suis une professionnelle de la santé. Depuis de nombreuses années, je travaille dans les soins aux personnes âgées et ces dernières années dans les soins de nos sœurs âgées. Depuis 2009, je suis Provinciale de la Province Belge.
Sr. Marthe-Marie Moenssens
I am a Nurse and a midwife. For many years I have been working in homecare and in an elderly home. The last few years, I have been helping  the older sisters in the community. I am  a Councillor of the Belgian Province.
?
Je suis infirmière et sage-femme. Pendant de nombreuses années, j'ai travaillé dans les soins à domicile et dans une maison de personnes âgées. Ces dernières années, j'ai aidé les sœurs aînées de la communauté. Je suis Conseillère de la Province Belge
Sr. Clotilde NGOM
I am from the region of Senegal, Province of Africa.
My present ministry: I am at the service of the sisters as a regional leader.
I have never participated in a General Chapter, this is my first time. I have no idea how it will go. I await this event in faith and pray that the Lord will send his Spirit upon us, that he will guide us and that everything will happen according to his will.
?
Je suis de la région du Sénégal, province d'Afrique. Mon ministère actuel: je suis au service des sœurs comme régionale.
Je n'ai jamais participé à un Chapitre général, c'est ma premier fois je n'ai aucune idée du comment cela se passe. J'attends cet événement, dans la foi et prie pour que le Seigneur envoie sur nous son Esprit, qu'il nous guide et que tout se passe selon sa volonté.
Sr. Lies Alkemade
I am 80 years old. I am the provincial of the Dutch province. It is a privilege to help my province in the process of completion. At the moment we have 47 sisters, most of them are above 80 and 90.
This is the second time that I will attend the General Chapter. The first time was in 2005.
My desire for the Chapter is that we will experience a deep encounter with all the sisters of the Chapter and  that we together will believe in the future of our  beloved Congregation.
?
J'ai 80 ans. Je suis la Provinciale de la Province néerlandaise. C'est un privilège d'aider ma province dans le processus d'accomplissement. En ce moment nous sommes 47 sœurs, la plupart d'entre elles ont plus de 80 et 90.
C'est la deuxième fois que j'assiste à un Chapitre général. La première fois, c'était en 2005.
Mon désir pour le Chapitre est que nous expérimentions une rencontre profonde avec toutes les sœurs du Chapitre et que nous croyons ensemble en l'avenir de notre Congrégation bien-aimée.
Sr. Francesco Moens
Since 1960, I have been, with joy and gratitude, a Daughter of Our Lady of the Sacred Heart. I have been in Indonesia, in the service     
                of the Moluccan Church, working for Social Economic Community Development for 47 years. And now I am retired, living in Holland, at the moment I am Provincial Councillor.
I hope and pray, our beloved Congregation may go on and on, in faith; that Hope and Love experienced during and after the Chapter will help us to bring hope  in a new world emerging. The world needs us all, old, young and middle-aged, to bring the message of Jesus. Heart everywhere.
?
Depuis 1960, je suis Fille de Notre-Dame du Sacré-Cœur avec joie et gratitude. J'ai été en Indonésie durant 47 ans, au service de l'Église des Moluques, travaillant pour le développement de la Communauté sur le plan social et économique. Et maintenant, je suis à la retraite, vivant en Hollande, en ce moment je suis conseillère provinciale.
J'espère et je prie, pour que notre Congrégation bien-aimée puisse continuer et continuer, dans la Foi, l'Espérance et l'Amour pendant et après le chapitre, afin de nous réunir ; spécialement l'Espérance dans un nouveau monde émergeant. Le monde a besoin de nous tous, vieux, jeunes et d'âge moyen, pour apporter le message de Jésus, partout avec cœur.
Sr. Monica Kaha.
I come from Indonesia. At this moment I am the directress of Temporary Professed Sisters and Aspirants. I attend the General Chapter for the first time.
I hope that each one will experience the richness of the diversity and experience an openness of mind, of heart, and of will. I hope that the process during the Chapter will run smoothly so that it can produce decisions that can address the urgent concerns and problems of each Province.  God bless……
?
Je viens d'Indonésie. En ce moment, je suis la directrice des sœurs professes temporaires et des aspirants.
J'assiste pour la première fois au Chapitre général.
J'espère que chacune fera l'expérience de la richesse de la diversité et de l'ouverture d'esprit, du cœur et de la volonté. J'espère que le processus au cours du Chapitre se déroulera sans heurts afin qu'il puisse produire des décisions qui peuvent répondre aux préoccupations et aux problèmes urgents de chaque province. Que Dieu vous bénisse……
Sr. Philomène IKETA YEKA,
from the Province of Africa. I am currently the Regional Leader of Congo. I have never participated in a General Chapter; this is the very first one in which I will take part. While being aware that
this is a very important and determining event for our Congregation, I am curious and interested to experience a chapter, to see it with my own eyes unfolding and to touch it with my own fingers. I thank the sisters of my Province for the trust and the opportunity they have given me.
Finally, I seriously pray that the Spirit of God will cover this important moment with its shadow. May the Spirit lead and animate this General Chapter so that what will result from it will be as close as possible to the will of God. Courage to all the members of the General Council and to all their collaborators!
?
Je suis de la province d'Afrique, Région du Congo. Je suis actuellement responsable Régionale. Je n'ai jamais participé à un chapitre Général ; celui-ci est le tout premier auquel je vais prendre part. Tout en étant consciente que c'est un moment très important et déterminant pour notre Congrégation, je suis curieuse et intéressée de vivre un chapitre, de voir de mes propres yeux et de toucher du doigt son déroulement… Je remercie les sœurs de ma province pour la confiance et cette opportunité qu'elles m'accordent.
Enfin, je prie sérieusement pour que l'Esprit de Dieu couvre ce moment important de son ombre ; qu'il conduise et anime ce chapitre Général afin que ce qui en résultera, soit aussi rapproché que possible de la volonté de Dieu. Du courage à tous les membres du conseil Général et à tous leurs collaborateurs !
"The Christian community, gathered in common discipleship, is the place where individual gifts can be called forth and put into service for all. It belongs to the essence of this new togetherness that our unique talents are no longer objects of competition but elements of community, no longer qualities that divide but gifts that unite." (Henry Nouwen)
?
« La communauté chrétienne, rassemblant les disciples, est le lieu où les dons individuels peuvent être suscités et mis au service de tous. Il appartient à l'essence de cette nouvelle manière de vivre ensemble que nos talents uniques ne sont plus des objets de compétition mais des éléments de la communauté, non plus des qualités qui divisent, mais des dons qui unissent. (Henry Nouwen)